June 1, 2022
Orem Family Dental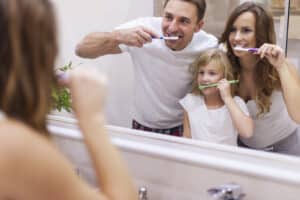 Do you need a family dentist in Orem or Provo, Utah? Genesis Dental & Orthodontics has a wide variety of dental services to choose from so that we can cater to every need of any family member. 
What is the Difference Between a Family Dentist and a General Dentist?
In short, a family dentist is a dental professional who sees patients of all ages, from young children to seniors, while a general dentist focuses on the needs of adults. As a family dentist, Dr. Peet is familiar with the unique dental needs of each stage of life and can provide comprehensive care for the whole family. On the other hand, a general dentist may only see adult patients or may only treat specific types of dental issues. 
What Services Does a Family Dentist Provide?
Some of the services we offer include:
Children's Dentistry: We offer a wide range of dental services for children, from routine check-ups and cleanings to more complex procedures like fillings and sealants. We understand that children can be anxious about going to the dentist, so we create a fun and relaxed environment to put them at ease. As a family dental service, we also work to develop lifelong relationships with our patients, which helps your child get used to the dentist they know and trust. 
Preventative Care: This is one of the essential services because it helps avoid serious dental problems before they start. We recommend that patients come in for a check-up and cleaning every six months, but we are also available for emergency dentistry appointments if necessary.
Restorative Care: If you have a tooth that is decayed or damaged, we can provide restorative care to help repair it. We offer a wide range of restorative services, including fillings, crowns, bridges, and more.
Orthodontic Services: We are proud to offer both traditional braces and Invisalign® to our patients. Orthodontic treatment is not just for teenagers – we treat patients of all ages.
Cosmetic Dentistry: We offer a variety of cosmetic dental treatments in Orem and Provo, Utah, to help patients achieve their perfect smiles. Whether you're looking for dazzling teeth whitening, beautiful veneers, or restorative bonding, we can help.
At What Age Should My Child See the Dentist?
According to the American Academy of Pediatrics, your child should visit the dentist by their first birthday. Although they may not have many teeth yet, it's essential to establish a good relationship with a family dentist and to start forming healthy habits early.
During the initial visit, Dr. Peet will check for any problems with your child's teeth and gums and guide you on how to care for your child's teeth. He may also recommend therapeutic fluoride treatments to help prevent cavities.
Convenient Family Dentistry in Orem and Provo
We understand that life is busy, and it can be challenging to find time for dental appointments. That's why we offer convenient appointment times, including early morning and evening appointments. We also offer weekend appointments for your convenience. Evening and weekend times may differ depending on the location. 
We accept most major dental insurance plans and offer financing options to make dental care more affordable.
We Provide Any Dental Service For Any Age
Dr. Erik Peet and his team are highly skilled and experienced in their field, so you know you're in good hands when you come to us. And you don't have to worry about feeling anxious or scared in the dentist's chair – we make sure our patients feel comfortable and relaxed during their visit. 
To make an appointment at our Orem or Provo office, simply give us a call or use our online scheduling tool. We look forward to meeting you and your family.