May 1, 2022
Dentist Orem, Utah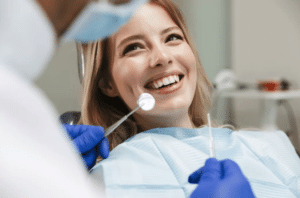 Are you looking for a dentist in Orem, Utah? Genesis Dental & Orthodontics is the perfect place to go for dental care. We provide high-quality services at an affordable price. You can trust us to take care of your teeth and gums.
How to Find a Dentist That's Right for You
A trip to the dentist's office can be anxiety-inducing for some people. However, it's essential to find a dentist you feel comfortable with to ensure that you're getting the best possible care. Here are a few tips for finding a dentist that's right for you:
First, consider your needs. Are you looking for someone who specializes in cosmetic dentistry in Orem, Utah? Or do you need a general practitioner who can handle all of your dental needs? Once you know what you're looking for, you can start your search.
Next, take some time to read online reviews. Reviews can be a great way to get an idea of what others have thought of their experience with various dentists in your area.
Finally, don't be afraid to ask around. Talk to your friends and family members and see if they have any recommendations. Once you've compiled a list of potential candidates, schedule consultations with each one so that you can get a feel for their office and staff. By taking the time to find a dentist that's right for you, you can ensure that your next trip to the dentist is as stress-free as possible.
Why You Should Choose Our Dental Office in Orem, Utah
At Genesis Dental & Orthodontics, we have a team of experienced professionals dedicated to providing the best possible care for our patients. We're centrally located right off State Street near the intersection with East 800 South. We prioritize comfort and convenience, offering hours that cater to the needs of busy families and a staff that will ensure you have a positive experience with us. Come see for yourself why we're the best dental office in Orem, Utah.
The Services Genesis Dental & Orthodontics Offers
We offer a variety of services at our office, including:
Family Dentistry: We provide dental care for patients of all ages, from young children to seniors.
Cosmetic Dentistry: We offer a variety of cosmetic procedures to help you achieve the smile of your dreams.
Dental Implants: We can replace missing teeth with natural-looking dental implants.
Preventative Care: This is one of the most essential services we offer. We recommend that patients come in for a check-up and cleaning every six months. This allows us to catch any problems early and prevent them from becoming more serious.
Restorative Care: If you have a cavity or another problem, we can fix it! We offer fillings, crowns, bridges, and extractions.
Orthodontics: We offer both traditional braces and Invisalign. We'll work with you to find the best option for your needs.
Emergency Dentistry: If you have a dental emergency, we're here to help. We offer same-day appointments for urgent care.
Children's Dentistry: We love seeing kids at our office! We offer children a wide range of services, including sealants, fluoride treatments, and more.
What to Expect at Your First Dentist Appointment in Orem
At your first dentist appointment in Orem, we generally start with X-rays and examine your teeth and gums. We will also ask you about your dental history and any concerns you may have. We may recommend a cleaning, fluoride treatment, or other dental procedures based on your examination results.
You should also expect to receive a comprehensive dental exam every six months. During this exam, Dr. Peet will check for tooth decay, gum disease, and other oral health problems.
The Best Dental Service in the Orem, Utah Area
Dr. Erik Peet and his team will ensure you have the best possible experience when you come to see us. We strive to make our office comfortable and treat all patients like family members.
Please schedule an appointment with us today.