July 1, 2022
Damon Self Ligating Braces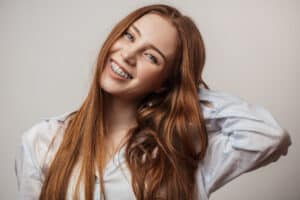 Do you have a busy lifestyle? Nobody wants to spend hours in the orthodontist's chair, but you'll need adjustment appointments if you need braces. We have a solution that can help. Our Damon Self-Ligating Braces are perfect for those with busy schedules who prefer fewer orthodontic appointments. It uses a next-gen design that requires fewer appointments so that you can focus on your day-to-day life.
What Are Damon Self-Ligating Braces and How Do They Work?
Our Damon Self-Ligating Braces in Orem and Provo, Utah, are new braces that use a next-generation design. They work by using a slide mechanism built into each bracket instead of elastics to hold the wire in place. Traditional braces use rubber bands to hold the wire in place. 
With the Damon System, as your teeth gently move in the intended direction, the wire moves within its bracket, so they require fewer appointments for tightening and readjusting.
The Damon brackets are also smaller than traditional brackets. This means they're more comfortable – the design is less likely to irritate your gums and cheeks, and they're easier to clean than the bulkier brackets. And they look better. Ask us about the various aesthetic options we may be able to offer, including clear brackets that are difficult to see even when you speak or smile, for more discreet treatment.
How Long Does Treatment Take With Damon Self-Ligating Braces?
The average treatment time with the Damon System is about 18 to 24 months. The timing can vary depending on the severity of the misalignment. In most cases, patients will need to occasionally visit Dr. Peet for a checkup and ensure the braces are working correctly.
After treatment is complete, patients may need to wear a retainer to maintain their new smile. Overall, the Damon system offers a faster and more comfortable orthodontic experience to help patients achieve their ideal smile in less time.
How to Care for Damon Self-Ligating Braces
To take care of them, simply brush your teeth as you usually would. You may benefit from some specialized cleaning brushes and flossing devices to help you get around the brackets when cleaning. 
You should also avoid eating hard or sticky foods, as they can damage your braces. If you have any questions about caring for your braces, Dr. Erik Peet can help.
Cost of Damon Self Ligating Braces
The cost of Damon Self Ligating Braces will vary depending on the individual case. Factors that can affect the price include the severity of the misalignment, the length of time you need to wear braces, and whether you have insurance. 
However, Damon Self Ligating Braces are generally affordable and an excellent investment in the beauty and health of your smile.
We work with many insurance providers, and if you don't have insurance, we can still help. For example, we have a loyalty program that can make our dental services accessible to any resident in Orem, Provo, and beyond.
Damon Brackets for Busy Lifestyles in Orem and Provo, UT
You'll love the Damon System because it straightens your teeth quickly and efficiently with minimal discomfort. Plus, it gives you a beautiful smile without the hassle of traditional braces. You'll only need to visit us every 4-8 weeks instead of every two weeks as traditional braces sometimes require. That means more time for you and less time spent in the dentist's office.
Schedule an appointment today at Genesis Dental & Orthodontics. We offer free consultations to help you determine if the Damon System can work for you. 
You'll be on your way to a straighter smile in no time. Get ready to show off your new smile with confidence.