Here at Genesis Dental our team is completely committed and focused on providing the families of Salt Lake City, Utah with the best dental care you could receive. Being a very family-oriented dental practice, we offer services and treatments that everyone in your family can benefit from. Each patient and their needs are different, so we take the time to explain options and procedures and help you pick what works best for you.
Genesis Dental offers all general dental services plus a little extra to better serve our community, some of our specialized treatments include:
Dental Implants
Root Canals
Dentures
Cosmetic Dentistry
Orthodontics
With these treatments, we have been able to help patients with their specific dental issues all within one office and one team. Staying up to date with new dental technologies and procedures, our staff will perform high-quality work that you will love.
Our Location
We are very fortunate to be located right in downtown Salt Lake, making it easy for patients all over the city to come and receive care. Being in the city has allowed us to be able to help people of all ages and in different stages of life manage their oral health. If you are a college student, and you are new to the area, come stop by after class to meet our team!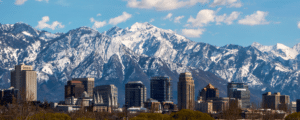 Salt Lake City is the capital of our beautiful state of Utah, and also the biggest city! Because it is surrounded by beautiful mountains, Salt Lake is home to great hiking trails and some of the biggest ski resorts in the state. If you love being outdoors, regardless of the season, Salt Lake might be the place for you.
Shopping malls and great dining options are another reason for frequent visitors to Salt Lake. Most of the surrounding counties and cities come to our beautiful city for a night out or even a small staycation!
Come See Us
Whether you are a lifelong resident of Salt Lake, a new college student, or even a visitor, give us a call to learn more about what we offer. Here at Genesis Dental, you, and your teeth, are our priority! If you have any questions, please don't hesitate to contact us!