Genesis Dental in Orem, Ut
At Genesis Dental, as soon as you walk through our door you are considered family! We believe that it is important to find a dental office where you feel confident that you are receiving the best treatments. Here at our office, our dentist and staff stay educated and trained on dental procedures and treatments to ensure that you are receiving the most up-to-date dental care.
Family is important to us, and we wanted to make sure that everyone in your family can see the same dentist but have their own personally tailored experience. To have your whole family taken care of we couldn't just specialize in general dentistry. At Genesis Dental, our dentist, Dr. Bradley Smith has been practicing and performing orthodontic treatments, dental implants, and even dentures to be sure everyone in your family can be seen.
Orem City
The city of Orem is a family-friendly place where communities and public schools are above average. Orem is known for having a low cost of living where young couples and families flock to, to purchase their first homes.
Orem is a great location being a neighbor to Provo city and only 45 minutes away from our state's capital, Salt Lake City. Being surrounded by great cities gives Orem's residents freedom to explore Utah and experience the city, then come home to quiet suburban living.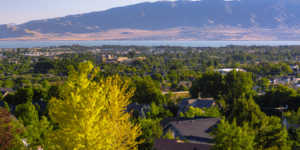 Dentist & Staff
Every single member of our dental team loves helping our patients have outstanding oral health. We are dedicated to providing a safe and comfortable environment for you and your family to receive care.
Dr. Smith finds it very important to have a dental office that is fun and inviting to the patients, while also being professional. We understand that for some people, going to the dentist can be stressful and maybe fearful. Our goal is to make sure that every patient's specific needs are met to make them feel comfortable and calm in our office.
Stop By!
If you are new to the Orem area or are looking for a new dentist who will care for you completely, come by and meet our team! You can trust us to take care of you and your smile!